Chemical recycling, relying on its outstanding carbon reduction effect, will play as an important role in technology field during carbon neutrality era. With the objective set by the Paris Agreement stated that to realize net zero emissions by the second half of this century, more and more countries have set carbon neutrality as their national strategy, which remarks the grand opening of carbon neutrality. After estimation, if chemical recycling can process about 200 million tons of newly increased low-valued plastic waste annually, then it can help in reducing carbon emissions around 400 million tons; and it would reduce 230 million tons of carbon emissions if the chemical recycling can be utilized in processing plastic waste from the stale waste in landfills all around the world in the next 20 years.
The value created by chemical recycling might be one of the most profitable field in the future petrochemical industry. In the last 20 years, profitable growth of petrochemical industry is mainly from technological progress and advantages of raw material. Low valued plastic waste might be the next resource of dominant raw material in plastic waste recycling. In the next 10 years, plastic waste recycling in processing raw materials might contribute two thirds profit growth in petrochemical industry. By 2050, almost 60% plastics will be made from recycled plastics as raw materials, and the contribution of chemical recycling might be succeeding 50% to petrochemical industry, from that chemical recycling will be the second growth curve in the next era.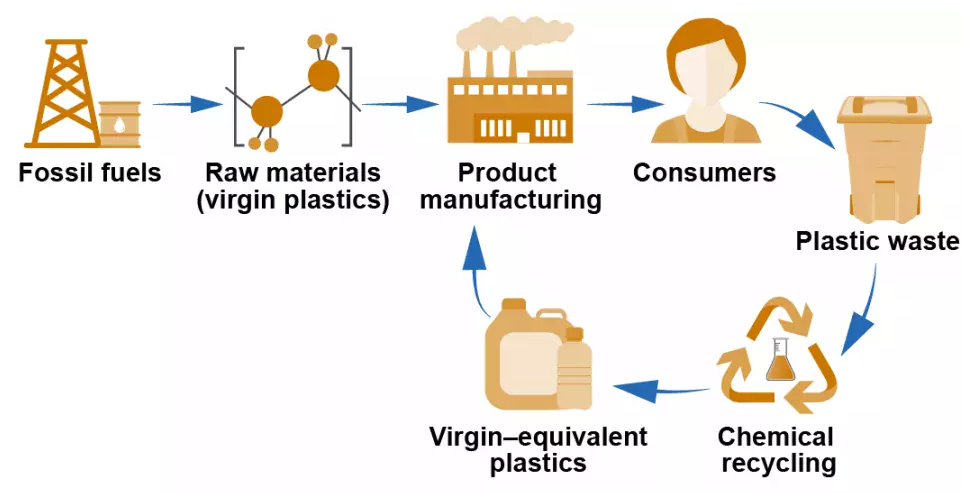 New plastic recycling technology
In plastic waste chemical recycling field, due to its advantages from environmental and economic benefit, wide range adaptability to materials with complex component, lower cost in operating, outstanding process effect with quality products and long service life with stable performance, pyrolysis technology and equipment has been deemed as a critical development direction by the public, which received lots of attention and promotion from various countries.
In this aspect, industrial continuous plastic waste pyrolysis technology and equipment which developed by Niutech Environment Technology Corporation has become a front technical equipment based on its premium technics and performance in plastic waste chemistry field. Such technology and equipment has been honored by the national prize for progress in science and technology, national encouraged environmental technical equipment for developing, etc., and also has been certified by the CE of EU, TUV of Germany and ATEX. It has been sold to China mainland areas such as Xinjiang, Shandong, Henan, Hunan, Hubei, Zhejiang, Jiangsu, Shaanxi, Guangdong and so on, as well as overseas countries like Germany, the US, UK, Denmark, Brazil, Hungary, Turkey, Estonia, Iraq, India, Thailand, etc.  Those projects have gained good ecological and social benefits as well as in promoting resource reutilization and ecological protection from a practical aspect, of which has been fully recognized and trusted by the clients.
Email: sales@niutech.com     Tel: 86 531 86196301