After it was cancelled in 2020 due to the epidemic, the latest IFAT will be held in Munich exhibition center from May 30th to June 3th, 2022.
IFAT, which has been successfully held for 20 years, is the largest and the most important trade EXPO in the world for environmental protection industry.
International environmental EXPO, Munich, Germany (IFAT), as one of the most important international exhibitions certified by UFI, is leading the latest trend of the environmental protection industry internationally, and is recognized as the wind vane for this field in the world. So it has been regarded as an important window for domestic environmental protection industry to enter the international market. With many well-known environmental protection enterprises at home and abroad are present, focusing on displaying the forefront of the environmental protection technology in the whole world.
On the occasion, over 2,500 enterprises from 50 countries and regions will compete on the same stage, deducing with all passion all kinds of high-tech products and technology, the exciting is ready to explode! The IFAT will also welcome exhibition groups from many countries, such as Belgium, China, Denmark, France, UK, Italy, Japan, Canada, Netherlands, Austria, Korea, Switzerland, Czech, Turkey, Hungary, US etc.
Niutech will be present at IFAT with our industrial continuous polymer waste pyrolysis production line, showing the power of "Creation from China" to the world.
Industrial continuous polymer waste pyrolysis production line
Through thorough decomposition, the high-molecular polymer in polymer wastes turns into the state of small molecule or monomer, with liquid (such as fuel oil), solid and gas output yielded, realizing harmless and reduction disposal as well as resourceful utilization for polymer wastes under safety, environmental protection and continuous stable operation.
The purpose of Niutech for attending this exhibition is not only, by this opportunity, to show the world the development of environmental protection industry in China, moreover, we are looking forward to having further discussion and communication with the elite exhibition groups from around the world about disposal technology, solutions and equipment regarding polymer solid wastes and hazardous wastes.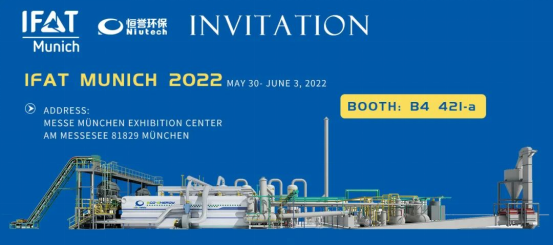 Booth:B4 421-a
Address: Messe München exhibition center Am Messesee 81829 München
Email: info@niutech.com